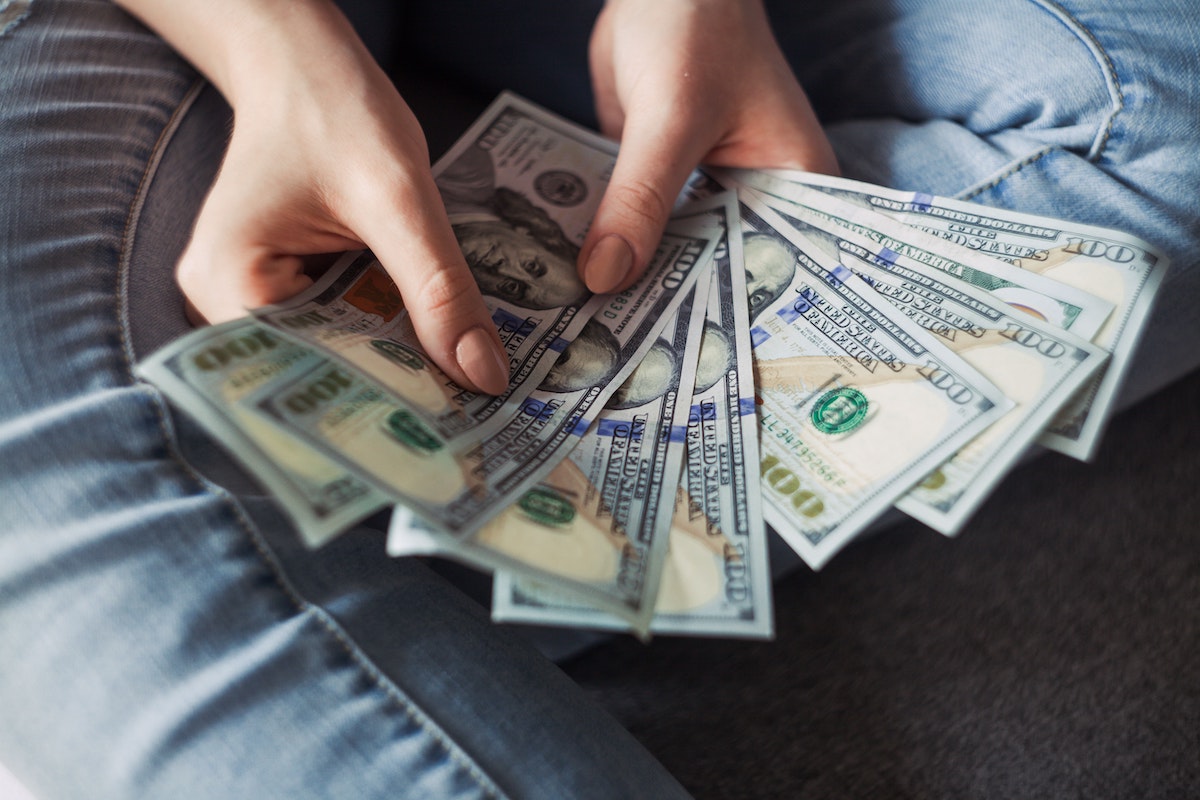 Customer AcquIsition | Marketing | Strategy | The Landscape
Etsy Sellers: Replace Your Profit at Half the Cost
January 1, 2021
If you're running an Etsy shop as a side hustle and have reached profitability, kudos to you! You get to engage in a hobby and get paid for it. If only everyone could achieve that milestone, I believe the world would be a happier place.
However, if you rely on income from your Etsy shop as your key source of your income, the stakes are a bit higher...and this analysis should be right up your alley.
At the end of the day, you are focused on take-home net profit: this is the real money left in your pocket after Etsy takes it's cut; otherwise known as Earnings Before Interest and Taxes (EBIT). Etsy takes care of a lot of things on your behalf, but this doesn't come for free. Etsy is eating into your EBIT margin with fees for transactions, shipping, payment processing and 'Offsite Ads' attribution.
And this doesn't factor in many other intangible conflicts of interest:
• Etsy steers customers to your competition if you remove a listing ⚠️
• Etsy owns the site, meaning you can never own your page rank authority, once SEO starts
• With Etsy, you have no transparency on your ads and SEO: keywords, meta phrases, etc.
• With Etsy, you do not fully control the look and feel of it; Etsy wants sellers' shops to look standardized; i.e. everyone must 'FIT IN', rather than feature a website design to make your brand 'STAND OUT' (as you should very well want it to!)

Yes, setting up your own, independent eCommerce website means you need to drive traffic and manage other details that Etsy previously took care of. Yes, this is a lot to master. But, it is worth it? Let's crunch some numbers to see. We'll just call your hypothetical eCommerce site: 'Your Shop'.
A simple way to decide whether it is worth it or not is to answer this question:
‍
What volume of SALES would you need to recreate the same PROFITS on Your Shop?
This is important because costs will be very different, therefore the route to profit will be different. But if you can recreate the same profit with a lower volume of sales, you'll be be running a more efficient operation: fewer orders to fulfill, fewer raw materials to buy and process, etc. Can we really make an apples-to-apples comparison between the two? We'll need to make some educated assumptions to put them on a level playing field.
‍
Both scenarios:
A few universal assumptions:
• We grow sales to achieve net profit (EBIT) starting at $0, and finally reaching $5k/month [1]
• Average item sale price: $50
• COGS: 55% (Gross margin on product sales: 45%)
• Shipping to U.S. using flat-rate USPS Medium Flat Rate Box: $13.2 (Etsy uses shipping cost to charge an additional % fee, so we'll need to include even the shipping itself is the same cost for both scenarios.)
• Sales traffic comes from somewhere, whether social or paid ads, or Etsy Offsite Ads attribution, etc. [2]
COGS % sales
55%

Average units per sale

1
Flat-rate shipping - Medium Flat Rate Box

Average sale price

$13.20

Value
Item
$50
‍
Scenario 1: Etsy
Assumptions:

We'll assume you rely on Etsy's 'Offsite Ads'.

Etsy fees:
• Etsy transaction fee - pricing: 5% [3]
• Etsy transaction fee - shipping: 5% [3]
• Etsy Offsite Ads Attributed orders, trailing 365 < $10K: 15% [3]
• Etsy Offsite Ads Attributed orders, trailing 365 > $10K: 12% [3]
• Etsy payment processing fees: about the same as Stripe; we'll not include these in comparison.
‍
Scenario 2: Your Shop
Assumptions:
• Website hosting, up to 100,000 visitors: $100/mo
• Email automation, up to 1,000 subscribers: $30/mo
• Shipping Software: $10 - $100/mo
• Marketing costs: see table (to right or below).

Email subscriber sign up rate, monthly

5%

Traffic share, Social

30%
Traffic share, Referral

10%
Sales Conversion

Cost Per Thousand Impressions (CPM)

New subscriber incentive coupon discount

10%
Hosting and email automation, monthly

$130
Shipping software, monthly

$10 - $100

5%

Value
Item
$7
‍
After we crunch the numbers for both scenarios, what would we conclude?

You need about 2X the sales on Etsy to produce the same net profit (EBIT) as Your Shop.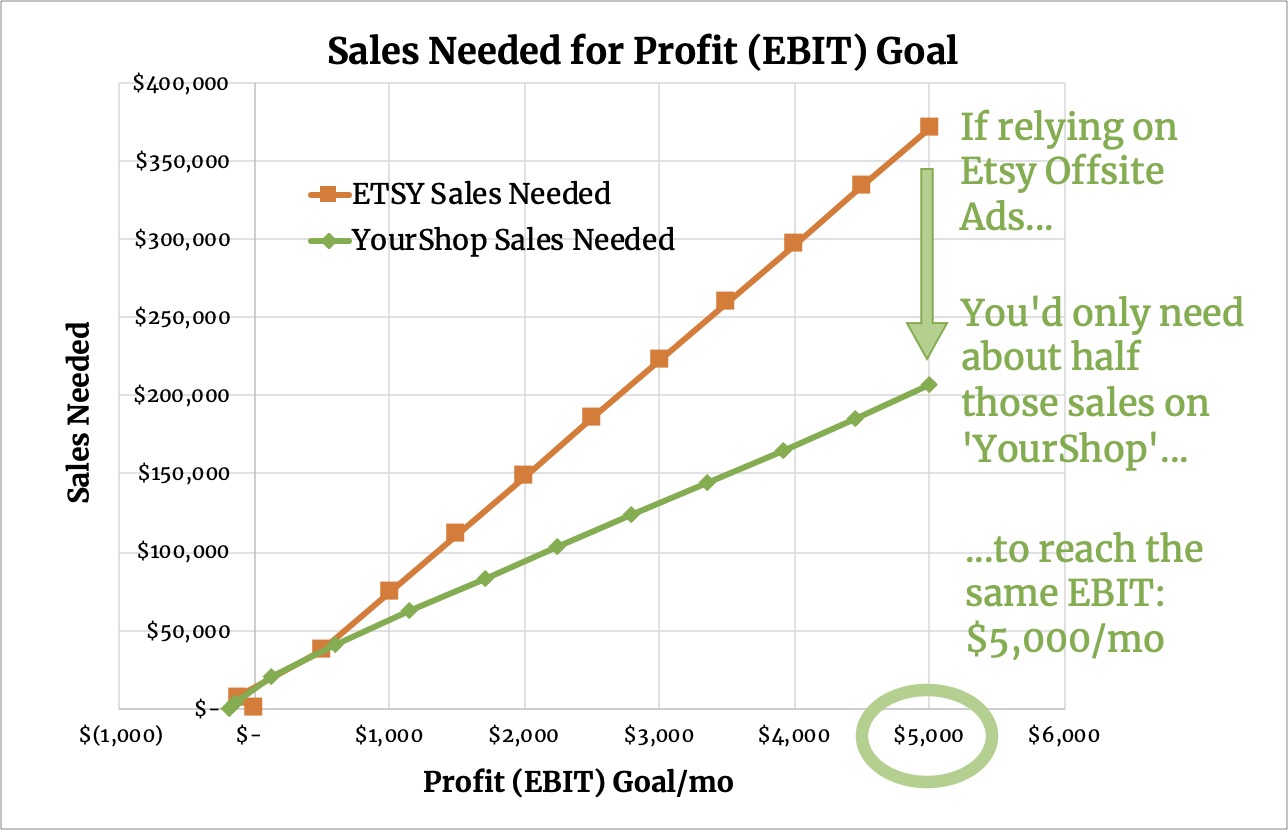 Now that is staggering.
Where does this shift in financial performance come from?
In the Etsy scenario, we are spending more on listing fees and shipping fees to Etsy, and less on marketing costs. In the 'Your Shop' scenario, we have more sales to invest in direct marketing efforts, rather than paying Etsy to 'rent space' on the platform.

Offsite Ads: 12% - 15%
Shipping: 5%

Pricing: 5%

Your Shop costs,% of revenue

Etsy: fees, % of revenue

Digital ads, promotional discounts, and software (hosting/email): 16% - 20%
But there is a compounding effect, too…as you need more volume to make up for all those fees, you need to to pay more in your direct variable costs, like COGS and shipping. So by reducing them you get a much lighter load and need fewer sales over all. How does the stack of costs compare in the two scenarios?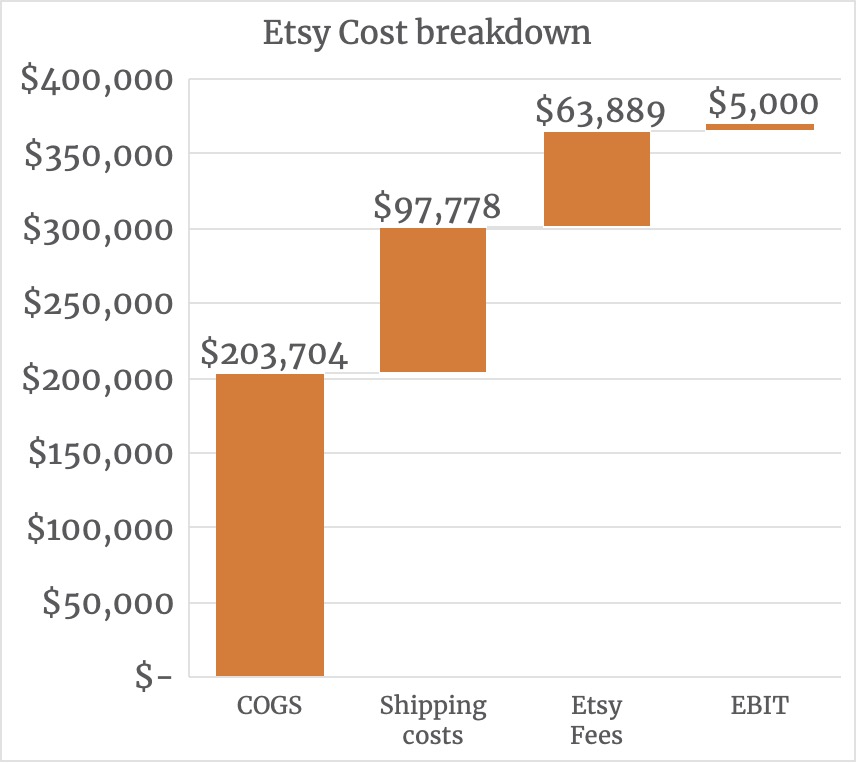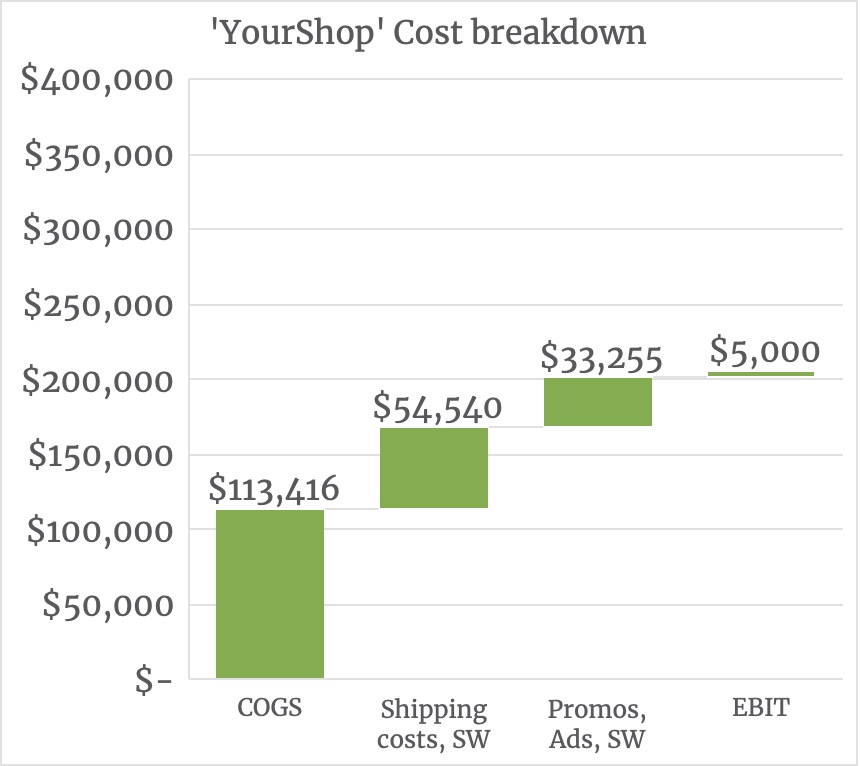 Another big assumption we made: you are paying for shipping. On Esty, this is highly encouraged by Etsy's practice of prioritizing listings that feature free shipping over those that don't. On your own site, it would be perfectly fair to pass through shipping charges to customers, or to set a threshold for free shipping, etc...whatever you and your customer deem to be fair.
If shipping was paid by customers, how would that change things?
Well, let's just say it's huge.
I hope this helps! And...Happy new year!!
‍
Footnotes
[1] Our results charts show 12 steps, implying we've compressed the timescale to fit into 12 months. Of course, it could take 18 months, 24 months, etc depending on your product-market fit. But any way you look at it, seems to me the time to start is now…
[2] This could probably be relaxed a bit; in the real world prospects will find us by perusing Etsy, or backlinks to our site, or organic search results. But here we're growing sales aggressively and the costs reflect that. And yes, you will have to spend a bit of time managing social media…but for $5K a month, it's probably worth it!
[3] https://www.etsy.com/legal/fees/
‍
We love to share
our experiences
READ STORY
Are you all too familiar with a 2.9% processing fee to receive payments in your business? I think of this pricing scheme as 'equity-seeking'. Are there any alternatives?